About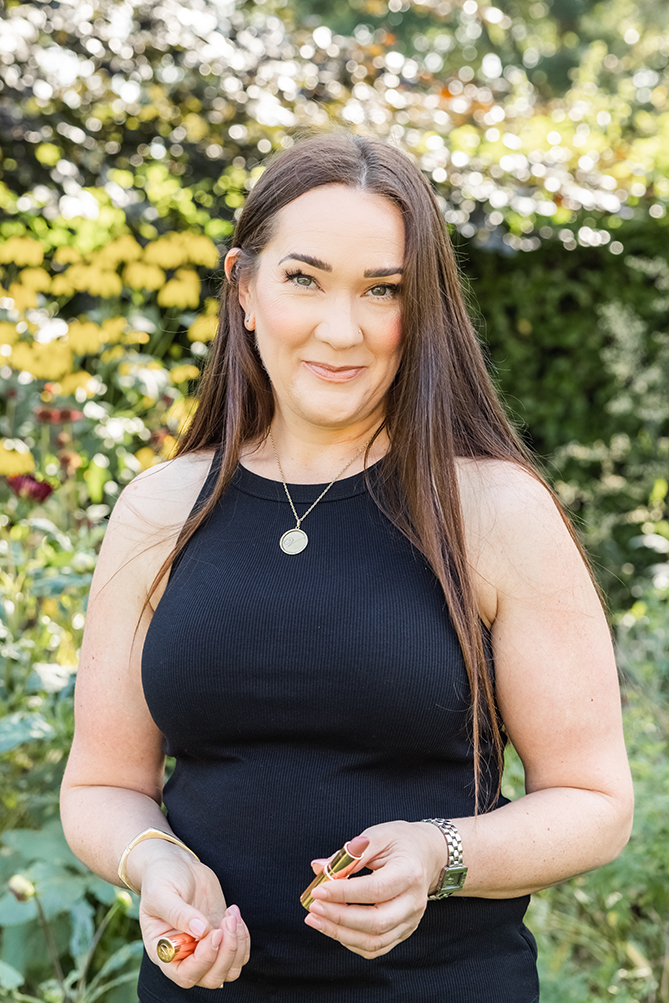 Victoria Bradfield – Make Up Artist
Hello, I'm Victoria, a passionate bridal makeup artist and beauty therapist based in Suffolk. My speciality is creating natural wedding makeup looks that enhance your natural beauty. No more heavy, cakey foundation that can make you feel like someone else entirely.
For me, makeup is more than just a job; it's my calling. I love the way it can make people feel confident, beautiful, and ready to take on the world. In fact, my obsession with makeup started more than 20 years ago with the mini lipsticks from Avon. Since then, it's become a part of who I am.
I take pride in my work and my kit is filled with high-end brands such as Dior, Charlotte Tilbury, Nars, and Laura Mercier. In addition, I'm always keeping my skills up to date with regular training from top beauty academies including KG Beauty Academy and The VIBE Education.
Over the years, my work has been featured in several magazines. I've been recommended by many prestigious venues. You might even catch me showcasing my skills at venue open days or participating in styled shoots.
I believe that makeup should enhance your natural beauty and that it should reflect your personality and style. I work closely with my clients to understand their preferences and their vision for their makeup. Whether you want a bold and glamorous look or something more understated and natural, I can create the perfect look for you.
Whether you're getting ready for your wedding day, prom, or any special occasion, I'm here to help you look and feel your best. And if you need some guidance on updating your everyday look, I'm happy to lend my expertise there, too.
I'm based in Woodbridge, Suffolk, but I'm happy to travel wherever you need me. So, if you're looking for a makeup artist who can help you achieve a natural, beautiful look that feels like you, get in touch with me today.
And don't forget to check out my portfolio for some inspiration!
Victoria
Testimonials
"Wanted to review you after your amazing wedding make up from last week. You did the most incredible job on me which looked as good at one in the morning as it had done at one pm when you had finished. You also made up my mother and sister so beautifully and were so kind and patient with panicking mother of the brides, not to mention panicking me, the bride herself!. Cannot recommend you more highly and look forward to working with you again - you are hugely talented and a joy to work with"
"Just wanted to say thank you so much for the brilliant job you did with my make-up, as well as my bridesmaids' and mum's, for my wedding at Bruisyard Hall in October. I was so pleased with how it looked and it stayed flawless all day. Thanks also for the product recommendations - have been using the blusher, powder and lipstick ever since! Thanks again and I won't hesitate to recommend you to anyone needing a make-up artist in Suffolk"
"I just wanted to drop you a quick note to say a huge thank you – to both you and Roberta – for doing such a fantastic job on my wedding morning. You made all 11 of us feel at ease and everyone was so pleased with their makeup. I was very impressed at how you adapted to so many different people/ages/tastes! As someone who doesn't know a lot about makeup, I was a bit nervous about the whole process, but you totally got what I wanted and made me feel very glamorous without feeling out of my comfort zone! I will certainly recommend you to friends."
"I wanted to say a massive thank you for all your hard work at my wedding and for travelling such a long way to be there - I really appreciated it! Everyone looked amazing and I absolutely loved my make-up, it was prefect for the day. I also wanted to thank you for being so lovely and kind to my mum she really appreciated it and looked amazing after her make over."
"Hi Victoria Just wanted to say a huge thank you for my beautiful make up. I've never felt so well looked after. You are a true artist!"
"A very very long overdue message to say a huge THANK YOU for your magical make up skills for our wedding in May! Once again you made us all feel so comfortable and beautiful! Everyone's makeup was perfect and lasted all day and night - impressive considering it was a pretty hot day and a sweaty dance floor! Thank you for being so accommodating with the date changes and bridesmaid changes in the lead up. Thank you again and best wishes, Jess x"
"Words cannot express how much your skill and attention to detail with my bridal makeup made me feel amazing and at least 15 years younger than I am. Charlotte looked stunning and was over the moon with how she looked. I really hope to be able to call upon you again, and for helping me get ready and sharing my special day I am so grateful."
"I just wanted to say a massive thank you for everything last week! I was so happy with how my make up looked on the day and I know the bridesmaids and mums were extremely happy too. Thank you for being so kind and lovely when I burst into tears in your make up chair - I promise I wasn't crying at the make up, the emotions of the day just suddenly hit me!! You really put me at ease so thank you."
"I just wanted to thank you for doing my makeup on our wedding day. You did such a great job and I felt so happy with how I looked (and I know my bridesmaids felt the same!). You made me feel a lot calmer about the rest of the day. Thank you so much. Lots of love, Laura xx"
"Thank you so much for doing my makeup on my wedding day last month. You are so talented and you really made me feel the most beautiful I could have felt. Your warm and kind manner was very calming on a hectic morning! My bridal party were also so impressed with you and your skills! Good luck with everything in the future. Love Ellie xx"
"Thank you so much for doing mine, my mums and two bridesmaids makeup on my wedding day. We all felt beautiful, relieved so many compliments and it really lasted all day long. From the trial, to the morning and right up until I left to walk down the aisle, you were so kind, friendly and professional. All of us couldn't recommend you enough! Warm wishes Emma"
"I just wanted to say a big thank you for all your work and help on our wedding day at Hengrave. I loved my makeup and my bridesmaids did too! They all said you were the best MUA they had ever had, I couldn't agree more. Your calm demeanour and relaxed personality was exactly what I needed that morning, thank you so much. I wish you all the best with all you do, and I know you'll continue to make many more brides just as happy as me! Thank you so much again."
"Victoria did my bridal makeup for my wedding in august and I couldn't have asked for a better makeup artist. Victoria and her assistant did all 7 of my bridesmaids and my mum and very single one of them looked (and felt) absolutely beautiful and they were all glowing. I felt so confident across the whole day with my gorgeous makeup that lasted fantastically and was exactly the look I was going for. From my initial trial, Victoria made sure I was related and I new that I could trust her to make me look my best on the day. She brought that calmness to the wedding morning and helped me de-stress while all the mania was going around me. I can't wait for any other excuse to book Victoria!"
"Wow, this lady! I was so scared that my makeup was not going to be right and with two weeks before our wedding, I was fortunate to find Victoria Bradfield! She knew exactly what I wanted and the look I had always imagined. On the day Victoria was brilliant. So professional but warm and friendly, we didn't stop laughing and I cried with joy when I saw my finished face. She nailed it. She also did my mum, mother of the groom and two bridesmaids. They were so beautiful and not over the top, just perfect. I couldn't of wished for more and I wish I could relive this part of the day again and again it was so relaxing. You're one in a million mad honesty I wouldn't go anywhere else for makeup and I will be recommending you to all future brides that ask. Miss you already, all the best and take care Kelly"
"All four of us girls and Islay would like to say a huge thank you to the absolute queen Victoria Bradfield without whom we couldn't have walked out with such confidence on our big day. A truely overdue post of appreciation Victoria - we shall forever be in your debt."
"I have worked with Victoria both as a photographer doing styled shoots and hiring her to do my make-up for special occasions. She is extremely talented to being able to understand my vision and makes me feel very glamorous and confident. I also love the products she uses, they seem to stay on for along time"