A Memorable Same – Sex Wedding at Woodhall Manor and Seckford Hall
This enchanting wedding took place on a beautiful August morning, commencing at the splendid Seckford Hall and then relocating to the captivating Woodhall Manor, an ivy-clad medieval mansion surrounded by picturesque walled gardens.
Brides and Makeup Secret
In this extraordinary same-sex wedding, both brides, Fran and Jo, visited my studio for a joint makeup trial and both booked me. It was lovely hearing about their beautiful family and their upcoming wedding. It was a unique trial as they couldn't tell me about dresses and hair they were keeping this a secret from each other.
Makeup and Beauty Essentials
For Jo, a self-described tomboy with minimal makeup experience, we curated a simple yet radiant look. We used Nars Light Reflecting Foundation for excellent coverage and a light, dewy appearance. Her eyes sparkled with shades from the Charlotte Tilbury Exagger-eyes palette, and we added a touch of Runway Ready lipstick. Jo also embraced individual lashes, which added a charming touch.
I even managed to get Jo excited about make up for the future, recommending products for her birthday including my favourite, award winning eye masks which I like to use on my brides at their trial and on the day to help reduce puffy, congested eyes normally from that lack of sleep with the pre wedding nervous energy. Take a look at them here
https://miicosmetics.com/product/bright-eyed-hydrogel-mask/
and use discount code VIC008 for 20% off.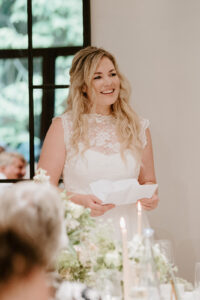 Fran, a makeup enthusiast and a true girly girl at heart, opted for a more dramatic look. We employed Bobbi Brown eyeshadow and bold black eyeliner, enhancing her eyes. A dash of Pillow Talk lipstick, (a bridal favourite) completed her stunning look.
Collaboration with Lynnette – The Wedding Hair Pro
Working alongside the talented Lynnette https://www.theweddinghairpro.com/  is always a pleasure. Her meticulous attention to detail and impeccable timing ensured a seamless day. Our partnership is not only professional but also filled with laughter and fun.
When we work together post-wedding preparations usually involve a lunch date (woohoo) this one was at the Ufford Crown fantastic food after a busy morning. I might have washed mine down with a gin.
Stunning Dresses
The dresses chosen by Fran and Jo were a massive surprise. Jo, a self confessed tomboy, stunned everyone with her beautiful, girly dress from Amelia and Alice Bridal.
Fran added a lace overlay to a stunningly elegant Jadore Bridal empire gown, it looked simply exquisite.
A Free Workout Thrown in
Given that the brides were getting ready separately and kept apart, Lynnette and I found ourselves navigating quite a few stairs, moving our equipment from a secret room downstairs to the charming bedroom at the top of the manor. It was undoubtedly a workout, but being part of these ladies' wedding day made every step worthwhile.
Captured by Laura Williams Photography
The love and joy of Fran and Jo's special day were beautifully captured by Laura Williams Photography. Her talent immortalized the emotions and memories of this remarkable celebration.